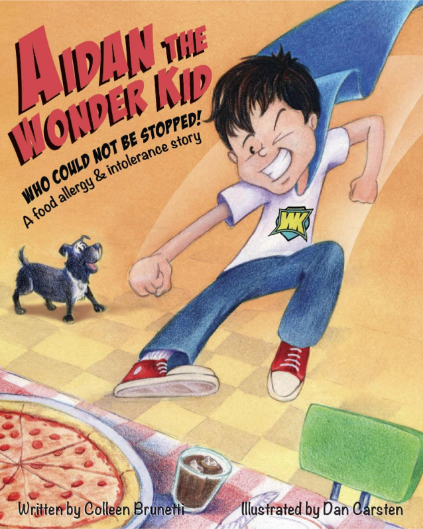 He was a super hero with a furry sidekick. 
She was a secret mad scientist in the kitchen.
But he was sick... and she was stumped.
Can they work together to find out what is stealing his superpowers, and restore his boundless energy once again? 
Meet Aidan the Wonder Kid and his Super Smart Detective Mom. When food allergies strike, they bond together to fight back. But can they win? 
Kids will cheer for Aidan, and parents and teachers everywhere will love the message. Two kids in every classroom have a food allergy, and this story brings fun to the challenge of feeding every body just right. 
Written by Colleen Brunetti
Art by Dan Carsten 
For more information on Aidan the Wonder Kid, lesson plans around food allergies and intolerances, and Colleen Brunetti's work to educate parents and teachers about allergies and intolerances, visit ColleenBrunetti.com.